Finding free Texas state records is simple and fast, making it easy to look up anyone's past in Texas right now.
In addition to the free search options available, users may also perform the searches themselves, using Texas lookup options for free Texas marriage, divorce, and even warrant searches.
For users who wish to access Texas public records, it can be helpful to understand what is considered public information and what requires extra clearance. Individuals need to meet pre-set criteria for certain information, such as specific vital records. For other records, such as state-based criminal history reports, users can search a statewide system without restrictions and find these records with just a few clicks.
While this resource primarily outlines how to acquire statewide public records in Texas, individuals who live in the counties listed in the following table can find the most reliable local agencies through which to obtain county public information as well; citizens can learn how to look up arrests and warrants, acquire court case records, view property records, perform background checks, access marital records, and more along with the process of retrieving each.
Texas State Laws: Requesting Public Information
Texas abides by Texas Government Code Chapter 552, government legislation which is more commonly known as the Public Information Act  and states that the public can access government records without stating a reason for the request. Therefore, all government information is considered publicly accessible unless sealed by law.
The rights of requestors in the state of Texas include the following:
Prompt access to non-confidential information
Right to receive fair treatment
Ability to access information without exceptions
Option to receive written itemized charge statement
Right to receive a copy of the communication
Before using government resources to find public state records throughout Texas, it can be helpful to narrow down the category of what record is being searched (i.e., criminal records, court documents, vital records, inmate reports, employment verification, etc.). Users who want to find information on another person can find information more efficiently by utilizing the appropriate government agency, jurisdiction, type of court, or relevant jail.
Searchers can typically find the necessary information on another individual by using government resources across the board from local, state, and federal government agencies and search tools. However, in some cases it can be more efficient and less stressful to use third-party services since they provide public records from across the nation and can search many regions or agencies simultaneously.
In such cases, users should only utilize paid third-party sites to ensure they receive comprehensive information that checks records nationwide with just one caveat — employers, landlords, insurance agents, and business partners must use third-party services that are compliant with local and federal laws if the screening is used to make a decision (more information about this can be seen below underneath the background check section).
Texas Criminal Records Summary
Criminal records in Texas are documents outlining the past criminal activity of individuals throughout the state, including information such as arrests, indictments, charges, post-conviction status, and expunged convictions.
Criminal history reports–informally called rap sheets–contain details about the subject of the report, such as:
Full name and known aliases
Birth date
Nationality and ethnicity
Mugshot
Physical description
Fingerprints
Arrest information
The Accessibility of Criminal Records in Texas
Criminal records are considered Texas state records and can be accessed by the general public if they are not proven to be confidential.
Any person in Texas can access these open records by using the Texas Department of Public Safety's online resources or browsing public court case documents.
How Can I See if Someone Has a Criminal History in Texas?
Users can view a person's criminal and arrest history in Texas by accessing the Texas Department of Public Safety website.
Visit the DPS Website
Click on 'Crime Records'
Click on 'Criminal History Name Search'
Click on 'New User Sign Up' to create a free account
Once an account has been created, click on 'Search Database'
Enter your User ID and Password
Enter the relevant search criteria and complete the search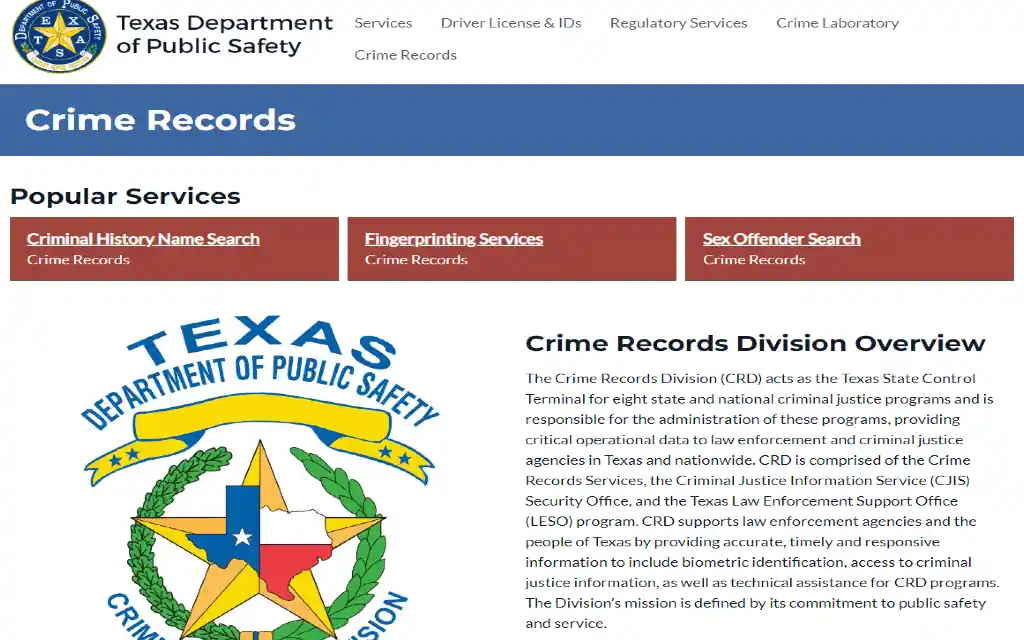 OR, users can follow these steps to access specific criminal history information via the Crime Records Division:
Visit the DPS Website
Click on 'Criminal History Conviction Search' or 'Sex Offender Registry' to find desired information; the criminal history conviction search can be browsed by name but the searcher will need to purchase credits to perform each search, whereas the sex offender public website is publicly available, free, and searchable by offender name, address, or institute of higher education.
If searchers are having trouble finding the necessary information on a person through using the DPS website, they can try to access local court records or perform a background check through the DPS website referenced above.
For a fingerprint-based search, searchers will need to obtain consent and fingerprints from the individual in question so this type of criminal history check is typically reserved for authorized employers, licensing agencies and other pre-approved entities. In addition to these options, individuals seeking criminal history reports can recruit the assistance of third-party services to check the records of private tutors, house cleaners, landscapers, and others that may be in their home.
Juvenile's Criminal History in Texas
A Texan's juvenile criminal history record is the information pertaining to their criminal history (i.e. arrests, convictions, charges, and sentencing) held within the state's court when the individual is too young to be tried as an adult.3 A juvenile is considered any person under the age of 17 in the state of Texas.
Juvenile court records in Texas are not considered public information and are instead legally confidential and withheld from public view. Only the agencies and entities specifically granted access by law can view or obtain these reports, such as The Texas Department of Public Safety, Juvenile Justice Information System, the Department of Family and Protective Services, the military, and criminal justice agencies.
If a juvenile record is sealed, it is NOT accessible to any person unless the individual has the court-ordered right to view that particular record.
Juveniles can seal their records once they turn 18 as long as they don't have an adult felony or misdemeanor charge or conviction and no longer have pending adult or juvenile charges. If a juvenile has been found guilty or they were 'adjudicated,' the court can only seal their records if they do not have any sexual offenses.
Texas State Records – How Do I See if I Have a Warrant?
An arrest warrant is a document signed by a judge that allows law enforcement officers to arrest the subject of the warrant, often due to being suspected of a crime. A bench warrant is issued by a judge if the person in question violates the ruling of a court.
A person can find out if they have a warrant in Texas by using one of the following methods:
Criminal history search through the Department of Public Safety website
Local court websites
Sheriff's offices
The first way to determine if a person has a warrant is to use the aforementioned Criminal History Search on the DPS website.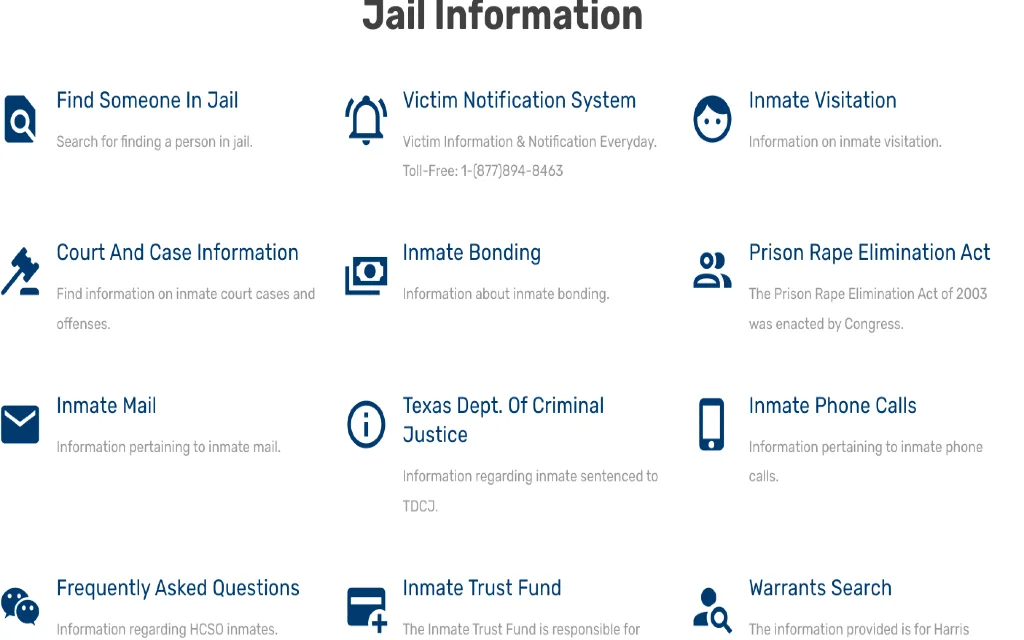 The second way to find out if a person has a warrant in Texas is to use local court websites. The Court Activity Reporting and Directory System can be utilized to find the court type, county, address, city, and district of the court to contact the clerk or court recorder and inquire about any active or outstanding warrants.
Interested parties can find the local jurisdiction in which the person may have a criminal record and use the local Sheriff's office website to verify if a warrant exists. For example, the Harris County Texas Sheriff's Office has a website that offers a warrant search tool  which allows members of the public to review active misdemeanor arrest warrants. This free resource is searchable by the subject's first and last name, System Person Number (SPN), or date of birth.
How to Check for Sexual Predators in Texas Free
Texas contains all information on those convicted of sexual offenses in a statewide repository. The Texas Sex Offender Registry contains information on convicted sex offenders that features data from various jurisdictions, such as the offender's full name, known aliases, physical description, and addresses.
Visit the Texas Sex Offender Registry website
Click on 'Search'
Enter the Map Address, Registrant Name, or Institute of Higher Education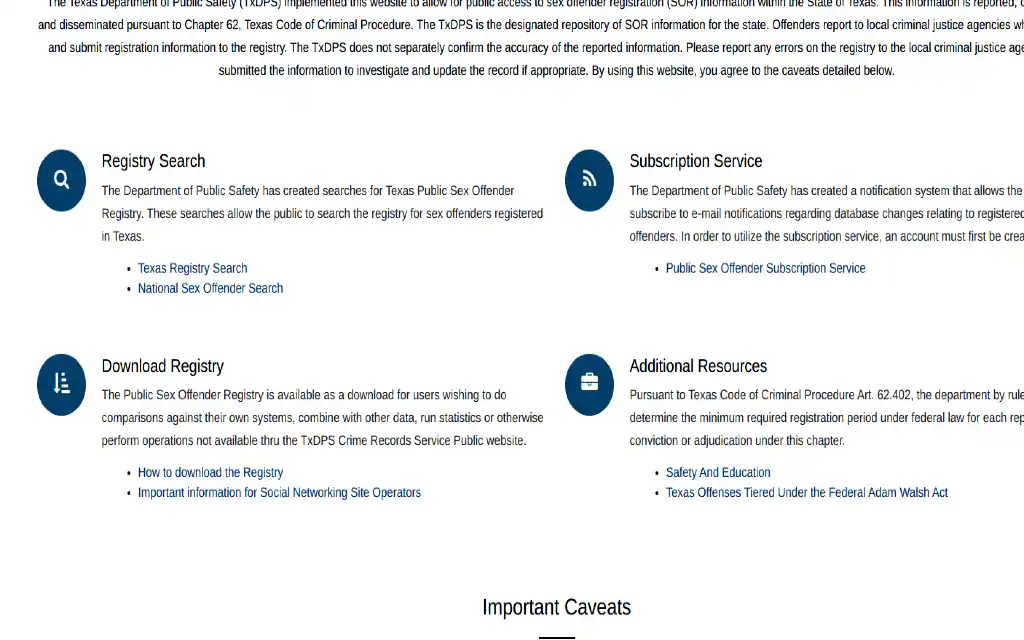 OR, users can do the following after step #1:
Click on 'National Sex Offender Search' to use the nationwide database to find individuals who have been convicted of crimes in other states; this tool is free for public use and is searchable by offender name or an address with a set radius up to 3 miles.
OR, users can do the following after step #1:
Click on 'How to Download Registry'
Click on 'Download Registry' to login and retrieve a comprehensive list of sex offenders in Texas.
How Do I Run a Background Check on Someone in Texas for Free?
There are different background check types available in Texas that can influence the methods a person uses, what they can find, and what laws must be adhered to when performing the check. Subjects of background checks do not need consent to run a name-based, statewide check on them but their consent must be granted and fingerprints taken for FBI-verified background checks.
State Background Check through the Texas Department of Public Safety
The Texas Department of Public Safety (DPS) runs the Conviction Database, which contains all official statewide criminal records. This database serves as a statewide repository of criminal records from both public and private sources.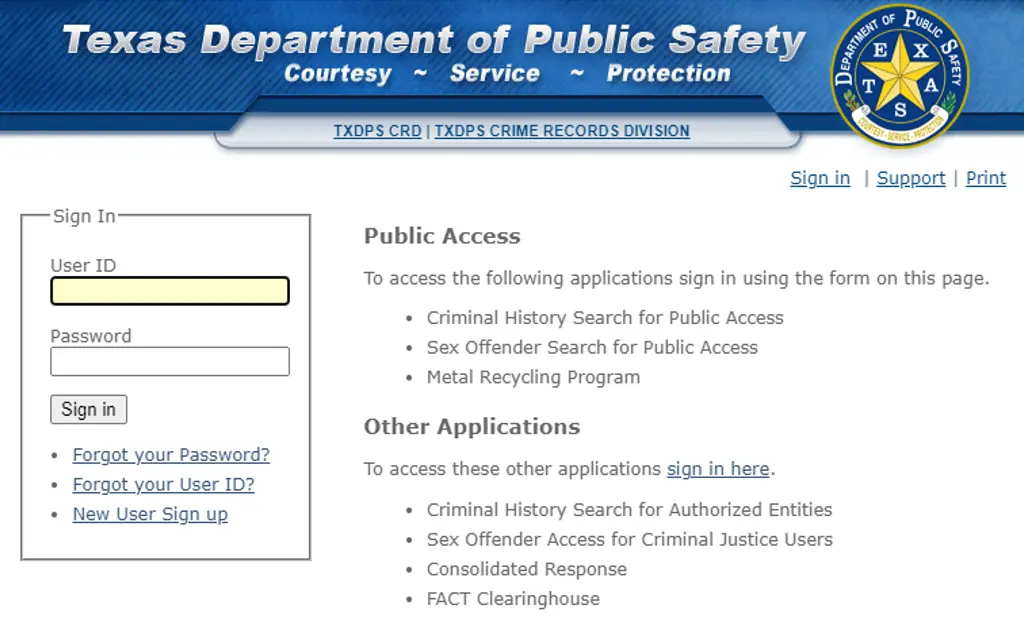 A criminal background check through the DPS typically takes between 1-3 business days.4
Fingerprint-Based Federal Check via FAST Fingerprinting and Department of Public Safety
Individuals who wish to work in certain occupations such as child care providers, teachers, security guards, contractors, or volunteers, are often required to undergo a fingerprint-based criminal history background check. To expedite this process and make access to fingerprinting services more convenient, Texas utilizes a system of fingerprinting service centers across the state that are created and maintained by the Department of Public Safety.
Applicants who need to get their own fingerprints taken or require another person to submit their fingerprints for the federal search must do so by visiting one of the FAST submission locations.
Collecting Fingerprints
Schedule a fingerprint appointment by using the online IdentoGo website or calling 888-467-2080
Select Delivery Option
Enter the Recipient Information
Enter the required information (ex: name, USD ID #, etc.).
Bring the fee payment to the appointment — check ahead with the specific location for their fingerprinting fees as these vary (Visa, MasterCard, Discover, American Express, business check, money order, or coupon code)
Bring a valid form of identification
Submit fingerprints electronically to the Department of Public Safety
Keep the IdentoGo receipt
The other method of collecting fingerprints for the fingerprint-based federal check is to do so via a fingerprint vendor such as a local law enforcement agency:
Complete an official fingerprint card
Enroll the fingerprint online or over the phone through the number mentioned above in Step 1
Submit Fingerprinting Information
Once the fingerprints are collected, searchers can do the following:
Visit the IdHSC website
Follow the steps on the page (submit fingerprints digitally via the US Post office, complete the online application, and pay electronically)
Searchers can submit a request directly to the FBI via the mail.
Request and complete the Applicant Information Form
Obtain a set of fingerprints using the standard fingerprint card (FD-1164) and visit the nearest US Post Office location
Submit payment by using the credit card payment form or sending a money order or certified check
Mail the items above to the following address:
FBI CJIS Division – Summary Request
1000 Custer Hollow Road
Clarksburg, WV 26306
An employment background check usually takes between 2-5 business days.5
Some counties offer official background checks at the local level as well, often through the sheriff's office or clerk of courts. For instance, residents of Tarrant County can order background check reports through the District Clerk of Court. The full details–along with guidance on finding many other types of public information–can be viewed in our resource on locating free public records within Tarrant County, Texas.
Free Texas Judicial Search: Texas Court Records Explained
The Texas court system has three levels — trial courts, appellate courts, and supreme court.6
The Texas court system is broken down into various levels that handle a variety of cases within the state:
Supreme Court — final appellate jurisdiction in both civil and juvenile cases

Court of Criminal Appeals — final jurisdiction in criminal cases

Courts of Appeals — regional cases, intermediate appeals from lower courts
District Courts — original jurisdiction in civil cases greater than $200, divorce cases, juvenile cases, felony criminal matters, and contested elections
County Courts

Constitutional County Courts — civil action cases between $200 and $20K, probate cases, misdemeanors with fines greater than $500, juvenile matters, appeals from lower courts
Statutory County Courts — civil and criminal cases prescribed by law through county courts, jurisdiction over civil matters between $200 and $250K
Statutory Probate Courts — probate, mental health, and guardianship cases

Justice Courts — civil actions greater than $20K, small claims, criminal misdemeanors, and magistrate cases
Municipal Courts — criminal misdemeanors without confinement, municipal ordinance cases, and cases of civil jurisdiction
How to Find Anyone's Court Records – Texas
Court records are the papers submitted or electronic documents filed during a court case.7
Individuals who wish to find anyone's court records in Texas can do so by first determining the court in which the person was indicted.
After research has been done to find out where the court case was filed, individuals are advised to gather more data (such as the subject's name, date of birth, description, etc.) to narrow down and expedite the search.
After the searchers finds out about the specific court, they need to figure out if the desired records are public or confidential under certain lawful exemptions. In some cases, searchers may need to contact the local court custodian to find information or request assistance. In other cases, a public records search via the court's website can provide convenient results online.
Lastly, individuals have options when choosing how to make official requests for court documents; they can either make a request online, in person, via mail or through other methods.
For example, if someone wants to find a subject's court case records through online methods, they can:
Click on 'Records Management'
Click on 'TRAIL – Texas Government Web Site Archive'
Type relevant information or keywords into the 'Search TRAIL' box and click on 'Submit Search'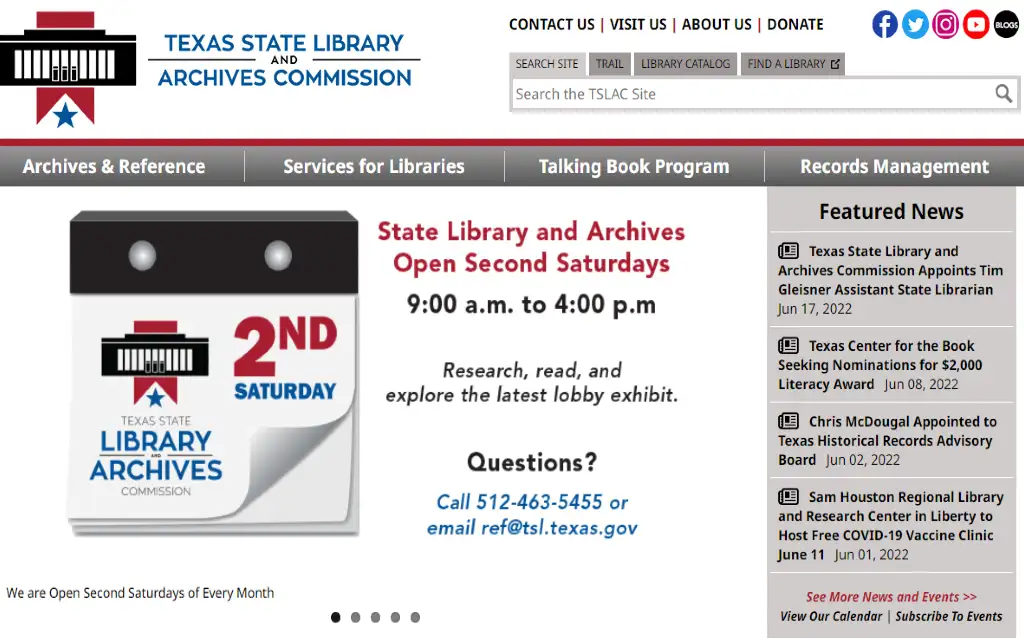 How to See Bankruptcy Filings in Texas
Bankruptcy records detail financial information about a person who may owe creditors money; these documents typically include information such as bank accounts, properties, businesses, and income.8
There are a few different methods that searchers can use to find bankruptcy records in Texas:
PACER System — Searchers can visit the United States Court's website and use the PACER System to find federal bankruptcy cases and docket information
Voice Case — Users can access the Multi-Court Voice Case Information System by telephone at 866-222-8209 to find information on a bankruptcy case
Archives — For older cases, individuals can use the National Archives Court Records website to search court cases and bankruptcy filings
Bankruptcy Courts — Various bankruptcy courts exist in the state of Texas; both the Southern District of Texas Bankruptcy Court and the Northern District of Texas Bankruptcy Court offer copies and public information on bankruptcy court documents; these can be requested by mail, email, fax, in person at the relevant courthouse location, or simply viewed online.
Clerk's office — Searchers can find bankruptcy information by finding the respective court clerk and asking for a copy of particular records. Alternately, interested individuals can access free public terminals in courthouse lobbies to view the desired documents
Records Center – Searchers can access older closed records filed before 2001 through the Fort Worth Federal Records Center
A Look at Inmate Records in Texas
Inmate records in Texas contain all information surrounding arrests, detainment and incarceration records. This information includes:
Names & Aliases
Gender
Age
Date of Birth
Custody Status
Location
ID number
According to the Texas Public Information Act, inmate records are available for public access through the local court custodians, government websites, and third-party search sites which can streamline the search and return reliable results quickly.
Learn How to Find Jail Records & Recent Arrests in Texas
Searchers hoping to find an individual's jail records, find a person in jail, or find recent arrests in certain counties in Texas, are advised to begin their quest for records by determining the county in which the individual was convicted of a crime. Knowing the arrestee's full name and approximate time of the arrest can aid in narrowing down the search as well. In Texas, the city jails are typically run by local police departments, whereas the county jails are usually operated by the local sheriff's offices.
Interested parties can visit the sheriff's office website or the police department of a city or county in which the person is being held to find jail records or recent arrests.
For example, the Harris County Sheriff's Office website offers a 'Find Someone in Jail' tool
Searchers can input the Last name, First name, Birth date, SPN, or SSN and click 'Submit this Search'

OR, users can utilize the contact information on the website's page to call the Harris County Jail Facility or the Outsource Jail Facility and inquire directly
For further details on looking up local jail records and arrests, interested parties can use our resource to learn how to find free public records in Harris County–including arrests, warrants, probation information, criminal cases, and more.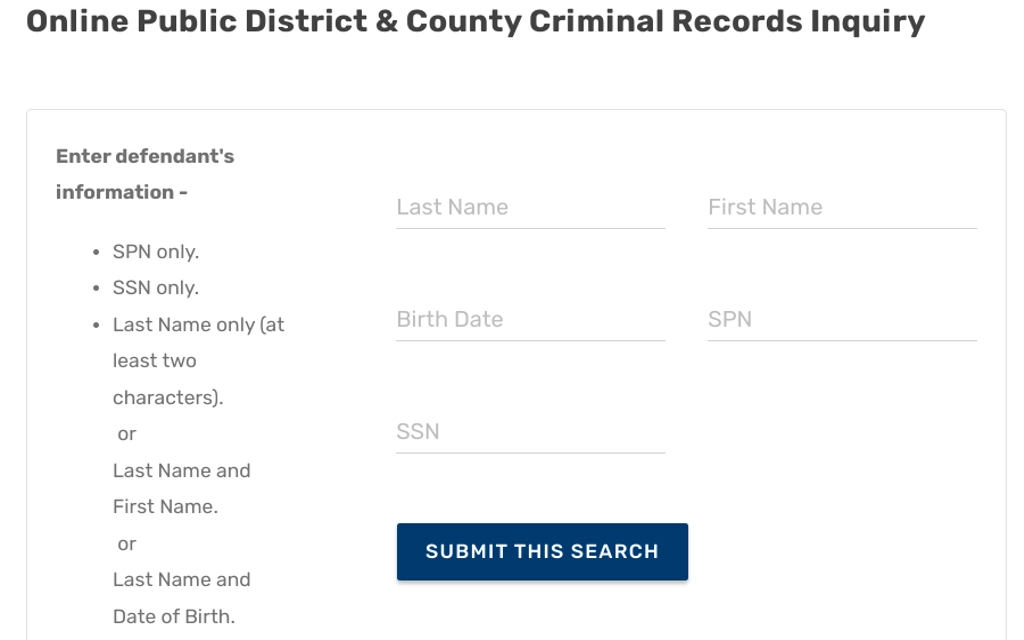 Steps to Locate TX Mugshots Free
The fastest way to find TX mugshots is to determine the county or city in which the person was arrested. By narrowing down the location, a person can see if the respective sheriff's office website or local police department has a list of recent arrests or mugshots on their websites.
For example, Harris County Sheriff's Office features an Offense Inquiry which allows searchers to determine if a specific offense, incident number, SPN, or case type is in that jail (whether a defendant is currently being held in Harris County jail).
For searching other types of records within the county, such as marriages, divorces, property ownership, court documents, and more, our guide on Harris County public records details everything you need to know.
Another example of mugshots and arrest information is Andrews County, which offers a county jail records search tool on their Sheriff's Office page or contact information to email the Andrews County Sheriff directly.
Where Can I See if Someone is in a Texas Prison?
The Texas Department of Criminal Justice runs the correctional institutions in the state of Texas, including state prisons. Searchers can use the prison lookup tool on the Department of Criminal Justice website to find prison inmates.
Visit the DCJ website
Click on 'Find a Facility' or 'Inmate Information'
For inmate information, click on 'Online Inmate Search'
Enter the last name, first name, TDCJ Number, SID number, gender, and race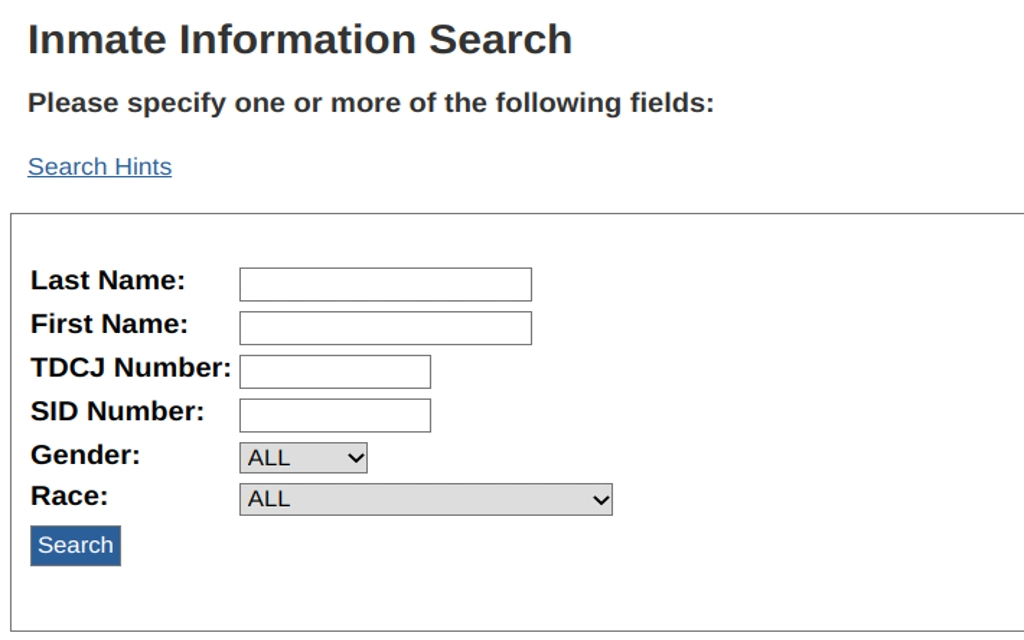 Lastly, a person can access the federal Bureau of Prisons (BOP) website and utilize the BOP inmate locator to find an incarcerated individual currently held in a federal facility.
Texas: Vital Records Free Search
Texas vital records–official documents pertaining to life events and held by the government–are considered public information.9
However, although vital records are considered 'public,' only certain entities and individuals can view or obtain certified copies of death, birth, marriage, or divorce certificates.
Are Texas (TX) Vital Records Publicly Available?
Informational copies of Texas vital records simply state that an event did, in fact, occur; these brief summaries can be obtained without the need to display any additional identification. On the other hand, official copies can only be accessed by authorized individuals.
To partially illustrate the demand for Texas vital records, the image below shows the divorce rates of each Texas county: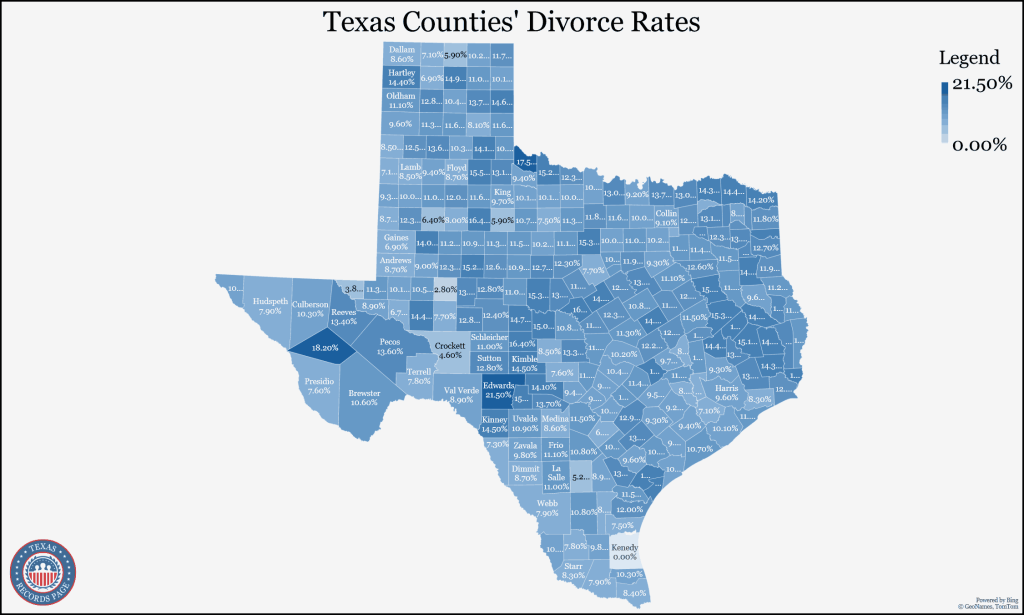 Those who wish to obtain copies of vital records for official reasons must indicate their relation to the subject in the application. Searchers must have basic information such as the name of the registrant, jurisdiction, date of the event, and the case file number before searching for or requesting Texas vital certificates.
Wondering if Someone is Married? Find Free Texas Marriage Records
Texas marriage records are considered public information and can be accessed by any member of the public. However, subjects listed on the marriage certificates can choose to have these documents sealed or deemed confidential.
Unless a marriage certificate is confidential, interested parties can obtain copies of them through the local county clerk's office in the county where the ceremony took place.
Search Free Divorce Records in Texas
Divorce records are considered public information in the state of Texas. However, the public records might exclude certain information, such as financial data or child support stipulations. Still, users can obtain divorce documents by using the Texas Department of State Health Services (DSHS) website.
Members of the public can access the Department of State Health Services website to verify a marriage or divorce:
Visit the DSHS website
Click on 'Services'
Click on 'Marriage & Divorce Records'
Click on 'Order Online 24/7'
OR, download and fill out the application and mail it to the following address:

Department of State Health Services
DSHS – VSS
PO Box 12040
Austin, Texas 78711 – 2040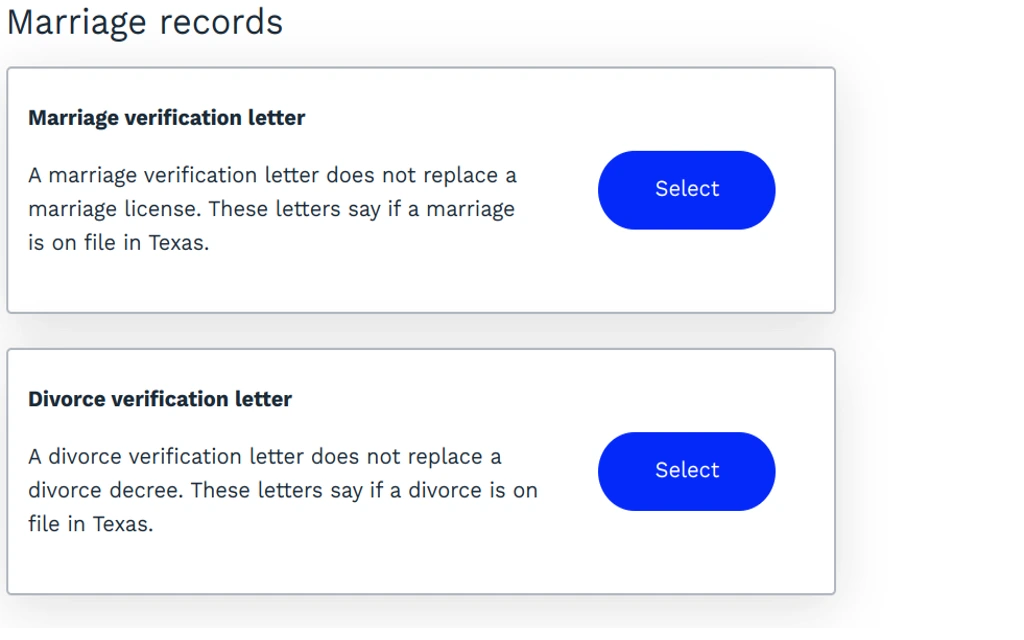 OR, download the application and visit a vital records office locations in person.
How to Acquire Death or Birth Certificates in Texas
Searchers can find birth records that are 75 years or older if they have not been sealed through the court. However, to order a replacement birth certificate, the requestor must meet one of the following criteria:
Registrant
Parent or Guardian
Offspring of the Registrant
Siblings
Grandparents
Spouse
Person Granted Access by Court Order
Searchers who meet the previous criteria can follow these steps to obtain birth records by mail:
Download and complete the birth certificate application
Make a photocopy of an acceptable form of identification
Send the appropriate fee payment, copy of the ID, and application to the following address:
DSHS Vital Statistics
PO Box 12040
Austin, TX 78711
Or, users can do so online through Texas.gov
A death certificate is an official government document that states information about the death of a person, such as the time, location, and date of death.10
If a person requires a death record, they can access certificates that are 25 years or older without any regulations. If a person needs a death certificate that is less than 25 years old, they must be an immediate family member of the registrant or have court-ordered approval to retrieve the record in question. If the requester meets this criterion, they can download the death certificate application and send the form, fees, and copy of a valid government ID to the aforementioned address.
Searchers can access Texas state records to find information on any individual by using local, state, and federal resources. In Texas, criminal records are hosted by the Department of Public Safety, information on sex offenders can be viewed for free on the Texas Public Sex Offender Website, prisoner details are most reliably found via the Texas Department of Criminal Justice inmate information center, and arrest reports are hosted by the sheriff's office in each county.
1Criminal record. (n.d.). Wikipedia. Retrieved June 27, 2022, from <https://en.wikipedia.org/wiki/Criminal_record>
2Information about Criminal Records. (n.d.). Legal Aid at Work. Retrieved June 27, 2022, from <https://legalaidatwork.org/factsheet/records/>
3What Are Juvenile Records? (n.d.). CriminalWatchDog. Retrieved June 27, 2022, from <https://www.criminalwatchdog.com/faq/what-are-juvenile-records>
4Korolevich, S. (2021, February 10). How Long Does A Background Check Take? GoodHire. Retrieved June 27, 2022, from <https://www.goodhire.com/blog/how-long-do-background-checks-take/>
5How Long Do Pre-Employment Background Checks Take? (2021, March 1). Indeed. Retrieved June 27, 2022, from <https://www.indeed.com/career-advice/career-development/how-long-do-a-background-check-take-for-a-job>
6Research Guides: Researching Texas Law: Cases: The Texas Court System. (2019, October 24). Research Guides. Retrieved June 27, 2022, from <https://law.tamu.libguides.com/texascaselaw>
7Court Records and Briefs | Duke University School of Law. (n.d.). Duke Law School. Retrieved June 27, 2022, from <https://law.duke.edu/lib/research-guides/court-records-briefs/>
8Bankruptcy Court Records | Tutorial | Berkeley Advanced Media Institute. (n.d.). Berkeley Advanced Media Institute. Retrieved June 27, 2022, from <https://multimedia.journalism.berkeley.edu/tutorials/bankruptcy-court-records/>
9Vital record. (n.d.). Wikipedia. Retrieved June 27, 2022, from <https://en.wikipedia.org/wiki/Vital_record>
10What is a Death Certificate and why do you need one? (2016, December 13). Science Care. Retrieved June 27, 2022, from <https://www.sciencecare.com/blog/death-certificate-need-one>
11Texas Department of Public Safety. Accessed 6 May 2023. <https://www.dps.texas.gov/section/crime-records>
12Harris County Sheriff's Office. Accessed 6 May 2023. <https://www.harriscountyso.org/JailInfo/Default>
13Texas Sex Offender Registry. Accessed 6 May 2023. <https://publicsite.dps.texas.gov/SexOffenderRegistry>
14Texas Department of Public Safety. Accessed 6 May 2023. <https://publicsite.dps.texas.gov/DpsWebsite/Login.aspx?ReturnUrl=%2fDpsWebsite%2fCriminalHistory%2fApplication%2fSearch>
15Texas State Library And Archives Commission. Accessed 6 May 2023. <https://www.tsl.texas.gov/slrm>
16Online Public District & County Criminal Records Inquiry—Harris County Texas Sheriff's Office. Accessed 6 May 2023. <https://www.harriscountyso.org/JailInfo/FindSomeoneInJail>
17Texas.gov. Accessed 6 May 2023. <https://inmate.tdcj.texas.gov/InmateSearch/start.action>
18Order Vital Records. Accessed 6 May 2023. <https://ovra.txapps.texas.gov/ovra/select-vital-record-order>